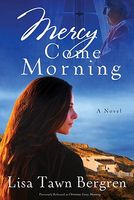 Though the relationship between Krista Mueller and Dane McConnell is only half the plot, the hopeless romantic streak deep inside me drew me to read this book, particularly the prospect of a "second chance" with her first love (not really sure why that struck my fancy, but hey, it got me reading). I didn't realize until after I started reading that the book held much more than just a romance.
It holds a story of forgiveness. As Krista spends more and more time at her dying mother's side, she begins to explore the relationship between herself and her mother, via a Christmas carol book used as a journal. Slowly but surely, she begins to see the past through her mother's point of view, and realizes the women she once hated, wasn't quite who she had thought her to be. And as she begins to see more, she learns to forgive, learns to trust again.
As for the romance side of the plot, I found myself relating somewhat to Krista's feelings toward Dane, on several occasions. Although the true reasons behind her reactions and feelings are quite different from my own, I was drawn in simply because her feelings, confusions, and uncertainty were real.
This story of forgiveness, lost love, and finding what has been forgotten is thought provoking and engaging, and I would recommend reading it -- though certain plot details cause me to not recommend this to children/young teens.
If you're still unsure, you can read the first chapter at this link:
http://www.scribd.com/doc/57397737/Mercy-Come-Morning-by-Lisa-Tawn-Bergren-Chapter-1-Excerpt
I received this book for free from WaterBrook Multnomah Publishing Group for this review.