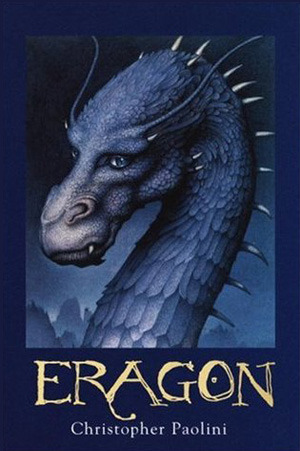 Title:
Eragon
Author:
Christopher Paolini
Labels:
Fiction | Fantasy
Publisher:
Knopf Books for Young Readers
Publication Date:
April 26, 2005
Recommended To:
Ages 12--Adult
Contains:
N/A
Buy It:
Amazon
|
Book Depository
|
Kindle
-------------------------------------------------------------------
Blurb From Goodreads:
One boy . . .One dragon . . .A world of adventure. When Eragon finds a polished blue stone in the forest, he thinks it is the lucky discovery of a poor farm boy; perhaps it will buy his family meat for the winter. But when the stone brings a dragon hatchling, Eragon soon realizes he has stumbled upon a legacy nearly as old as the Empire itself.
Overnight his simple life is shattered, and he is thrust into a perilous new world of destiny, magic, and power. With only an ancient sword and the advice of an old storyteller for guidance, Eragon and the fledgling dragon must navigate the dangerous terrain and dark enemies of an Empire ruled by a king whose evil knows no bounds. Can Eragon take up the mantle of the legendary Dragon Riders? The fate of the Empire may rest in his hands.
---------------------------------------------------------------------------------------------------------
This is one of my close friend's favorite book, which is why I decided to pick it up when I saw it on the shelf at a consignment shop. I had heard of it previously because of an article written about the author by HSLDA, and therefore was aware of the story of its writing and publication--both were good reasons for me to give it a try. At first I wasn't thrilled over it; the start was a little slow for my liking, and not a whole lot of action was going on. However, my opinion of it quickly changed to a more favorable one as the story quickly picked up pace.
I ended up really enjoying this book, to the point that I started hurrying to be ready for work early so that I would have a few extra minutes to read before I left for the day. The plot line was very unique, especially for a fantasy. Paolini seemed to know just where to go outside the lines but not so far that the reader could get lost. I liked Eragon and enjoyed watching the connection he had with his dragon, Saphira. I thought it was cool that both of them grew and learned together, although Saphira clearly had a leg up on the wisdom end of things. The humor traded between the two was amusing and kept me waiting for more.
Overall I really enjoyed reading
Eragon
, and definitely would recommend it. I bought this book, and therefore was not asked nor required to write a review. These opinions are my own; I was not required to write a positive review, nor was I compensated for this review.