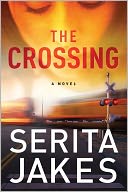 Title:
The Crossing
Author:
Serita Jakes
Labels:
Fiction / Contemporary
Publisher:
Waterbrook Multnomah
Contains:
Cursing and occasional sexual references
Buy It:
Amazon
My Rating:
★
★
☆
☆
☆
Blurb:
On the way home from a football game, a decade earlier, a masked gunman opened fire on a Texas school bus. Cheerleading coach BJ Remington was killed, but her murderer was never found. Claudia, who had a close friendship with the young, spirited teacher, constantly relives the anguish of that day, caught in one moment in time. When her husband, the assistant district attorney, becomes determined to uncover the mystery of that tragedy, the secrets buried over the years threaten to tear their family apart.
Officer Casio Hightower will never forget the day his dreams were destroyed. A star quarterback with a promising future, Casio was on top of the world--until one bullet changed everything. He is eager to help Victor Campbell find BJ's killer, the man who shot him. Maybe solving the case will help silence the demons driving Casio to hurt the woman he loves. As the Campbells and Casio teeter on the brink of losing everything, will they be able to discover that what begins at the crossing ends at the cross?
Not going to lie, the prologue and 2nd page of the first chapter kind of freaked me out a bit. I knew I, with my weak constitution, was probably doing the wrong thing when I picked this crime novel, and for a few pages into this book I kept asking myself what had gone wrong with my brain process when I decided to get this book over other ones I could have chosen that probably would have agreed with my stomach more. It actually surprised me--it wasn't very graphic (even the prologue and 2nd page really weren't that bad, my constitution is just extremely weak :P) as far as the actual murder and whatnot. Anyway, once I got a handful of pages in, all was well in that department.
As far as the actual writing goes, I thought The Crossing was very well written. Jakes clearly gets the point across without needless and overextended detail or explanation. The story flows well and is an easy read. Also, I would just like to thank Jakes for her point of view choice -- the people who have told me that you can't write a book with multiple points of view per chapter without it being confusing clearly didn't know what they were talking about.
As for the plot. The crime side of it was pretty good. Although I had a guess at who the murderer was early on, which ended up being the correct suspect, there wasn't any hard evidence to make me lose interest. Maybe it was just a lucky guess, but even so Jakes kept me second guessing myself and reading to be sure my suspicions were accurate.
The side story -- the characters personal lives and involvement -- didn't really impress me. I was disappointed in several aspects, which I won't name specifically for the sake of not spoiling it for future readers. While the wrong acts committed by the sub-characters weren't encouraged nor made appealing, I felt the author didn't well in condemning or discouraging it as well as she could have.
I also wasn't very impressed with the ending, which, again, I won't go into great detail about lest I spoil it, especially since it came as a surprise to me. I definitely wasn't expecting the outcome of one of the main characters, Casio Hightower, nor the conclusion to his side story. I was disappointed in his story, because I saw potential for his story.