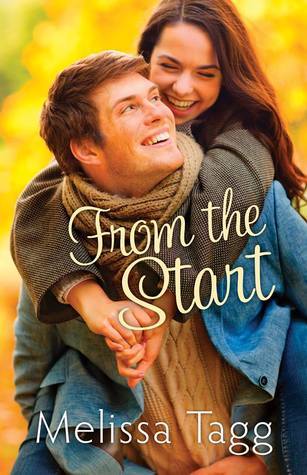 This book was so stinking cute.
From the Start
is definitely on my favorites list as of now. Melissa Tagg wove a fantastic, unique plot filled with three dimensional characters. I liked that Colton, one of the two main characters, was a former football player (even though I know nothing of football...) dealing with a lot of life changes, as well as ghosts of the past.
The other main character, Kate, was the one I think I identified with the most, which made me like her more. The interest the two developed for each other was cute, realistic, and identifiable. But it still ended well, which I appreciated. :-) This is the first book of Tagg's which I have read; I definitely plan on keeping an eye out for more of her books!
I would definitely recommend this book. The cute romance weaved in with real life problems turned into a terrific blend which I enjoyed immensely. I received a free copy of this book from the publisher for this review. These opinions are my own; I was not required to write a positive review, nor was I compensated for this review.