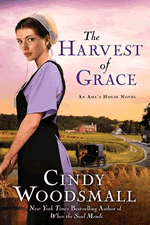 The Harvest of Grace
is probably one of the best romances I've read in a long, long time. I was a bit surprised to find so many main characters, but each one distinct story, yet all woven together perfectly. I loved watching each couple grow together throughout the book, accomplishing their goals while overcoming their obstacles.
At first, the Pennsylvanian Dutch words and phrases used - frequently - threw me for a spin and made it a little difficult for me in the first couple chapters. It was inconvenient to have to keep flipping to the back to look up a word or phrase in the glossary, but eventually I picked up on it and could remember what the words meant. Having never read a book with Amish characters, it took a little getting used to to understand the culture.
I liked that Sylvia and Aaron (the major main characters) didn't immediately fall for each other, but slowly their unique relationship found it's way in that direction. There's not much more I can say about their relationship without spoiling the plot. I will say that I absolutely loved the last couple of chapters - an absolutely perfect ending to an amazing story!
I received this book for free from WaterBrook Multnomah Publishing Group for this review.